The school day and work cycle take place between 08:00 – 13:00. Parents then have the option of choosing a ½ day or full day, ending at 13:00 or 17:00 respectively.
A 30 minute "grace" period has been allocated at both collection times should you be running late.
– The school day –
07:00 – 08:00 Children arrive at school and free work (Children on meal plan must be at school no later than 7:30 in order to enjoy breakfast)
08:00 – 08:30 Assembly, Brain gym and Morning Ring
08:30 – 10:00 First Work Cycle
10:00 – 10:15 Snack Time
10:15 – 11:30 Second work cycle
11:30 – 12:00 Free play
12:00 – 12:30 Lunch
12:30 – 13:00 Relaxation/free play; then home time for ½ day children (with a grace period of 30 minutes [13:30]).
12:30 – 15:00 Nap time (Optional)
15:00 – 15:15 Snack Time
15:15 – 17:00 Free play/ outdoor play / relaxation, then home time for full time children (with a grace period of 30 minutes [17:30]).
– Holiday Care –
Holiday Care will be provided throughout the year, but will be closed during the December holiday. Holiday Care will only be provided if there are a minimum of 4 children booked to attend. Please visit our Terms & Fees page for more details regarding cost.
– Intra-Curricular Activities –

​
MONDAY: JUNIOR JIVE

We build our Mini Maestros' confidence during our activities – focusing on all their little successes. We continue to focus on motor development, by making our activities energetic. We also include a lot more language development, as our maestros start communicating more fluently with us. We start working on social skills during the course of the year, as the maestros become aware of their peers.

WEDNESDAY: STIMU-ZONE

We follow a unique winning combination of computer literacy and education. The emphasis is now being placed on syllabus-directed topics, focusing on remedial education and enrichment – building on confidence in current technology. Extensive focus on reading and mathematics. We also cater for alternative educational systems by developing lesson structures to fit into their needs.All our software are being upgraded regularly and in total it is accessible to any approved curriculum.
– Extra Murals-

​
TUESDAY: LIV2DANCE

Ballet & Hip hop lessons by our fantastic teacher who graduated from the Royal Academy of Dance.

FRIDAY: SOCCERCISE STARZ

Soccercise Starz aims to assist children in improving their gross motor skills, confidence, concentration, teamwork, co-ordination, sportsmanship and interaction with their peers. The classes focus on football skills that build a solid foundation for their future sport's career.
– Other activities at Four Seasons –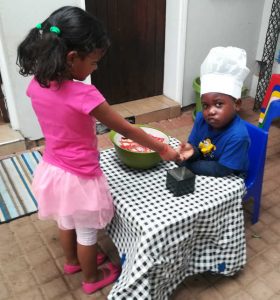 THURSDAY: BAKER'S DAY
Baker Day happens every Thursday. Each child gets a chance to be a 'baker'. Each baker needs to bring something edible to 'sell' to the other children. The money collected goes towards fundraising for something needed in the school environment which will be of benefit to the children. Each child needs to bring R5 to school every Thursday except when they are the baker.
EVERY DAY: LIBRARY
The children are given an opportunity daily to choose a book from our school library to take home for a maximum of five days. They may exchange before if they feel they want a new book. Parents read the book to them during story time at home. This fosters endless benefits for both the children and parents.
– Lunch –
Parents need to send a healthy packed lunch to school: sandwiches, fruit, yoghurts, cheese, nuts, raisins, salads, cold meats, eggs, granola bars, etc. You may also send food that requires warming. Please do not send sweets, chips, sugary biscuits cakes (including Tinkies), sweet/chocolate muffins and fizzy drinks. Kindly send a bottle of water, which will be topped up with filtered water in the hotter months. Only diluted fruit juice to a ratio of 1:3 of juice to water respectively is allowed as a secondary drink to the water. No Oros or other artificially sweetened drinks are allowed. It is important for your children to eat a healthy breakfast each morning to help them maintain their energy levels and concentration during the morning.
NEW
We are happy to announce that as of 1st January 2018, optional warm meals will be offered (to be discussed on registration)